Learning is a lifelong journey, and understanding how we acquire and retain knowledge is crucial for educators and learners. One popular framework that sheds light on the effectiveness of different learning methods is the "Learning Pyramid," also known as the "Cone of Learning." In this blog, we will delve into the learning pyramid's levels, explore their impact on knowledge retention, and discover how educators and learners can optimize the learning experience.
The Learning Pyramid Unveiled
Edgar Dale, an esteemed educator, introduced the learning pyramid in the 1940s. The pyramid depicts various learning methods ranked by their effectiveness in retaining information. These percentages are not based on robust scientific research and can vary depending on individuals' learning styles.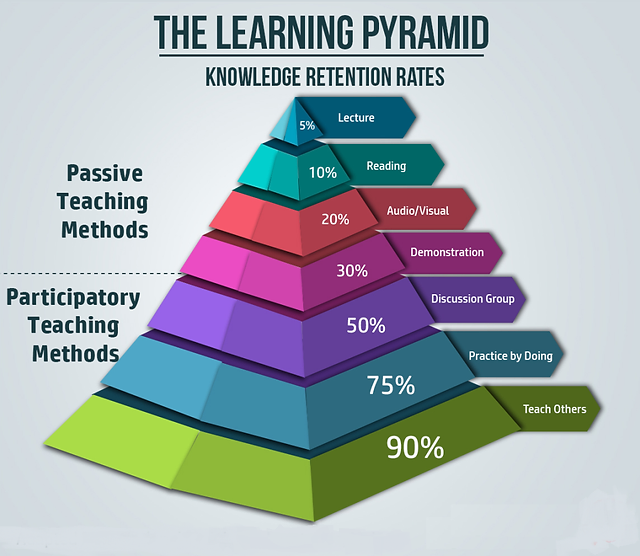 7 level of the learning pyramid provides learners and educators with a general view of how they would evaluate the knowledge and the experience. The following sections are the demonstration of the "learning pyramid" of Edgar Dale. 
7 Levels Of Learning Pyramid
Level 1: Lecture/Demonstration (5% retention)
At the foundation of the learning pyramid lies the conventional lecture and demonstration approach. This method has been a primary mode of education for centuries, and while it serves its purpose, it comes with inherent challenges. Passive learning often leads to disengagement and limited retention. To maximize the effectiveness of lectures, educators must embrace active learning techniques. Encouraging learners to ask questions, facilitating discussions, and incorporating real-life examples can foster meaningful connections and enhance retention.
To enhance this stage, the instructor can incorporate interactive elements. For example, they can pause during the lecture to ask questions, conduct brief quizzes, or encourage students to share their insights. Visual aids like animations and real-life examples can make the lesson more engaging, helping students connect theoretical concepts to practical applications.
Level 2: Reading (10% retention)
Reading is a fundamental aspect of acquiring knowledge. However, it ranks relatively low on the learning pyramid when it comes to retention. The act of reading alone may not guarantee optimal comprehension and memory retention. To harness the full potential of reading, learners should adopt active reading strategies. This includes summarizing key points, highlighting essential concepts, annotating, and engaging in thoughtful discussions with peers to exchange ideas and perspectives.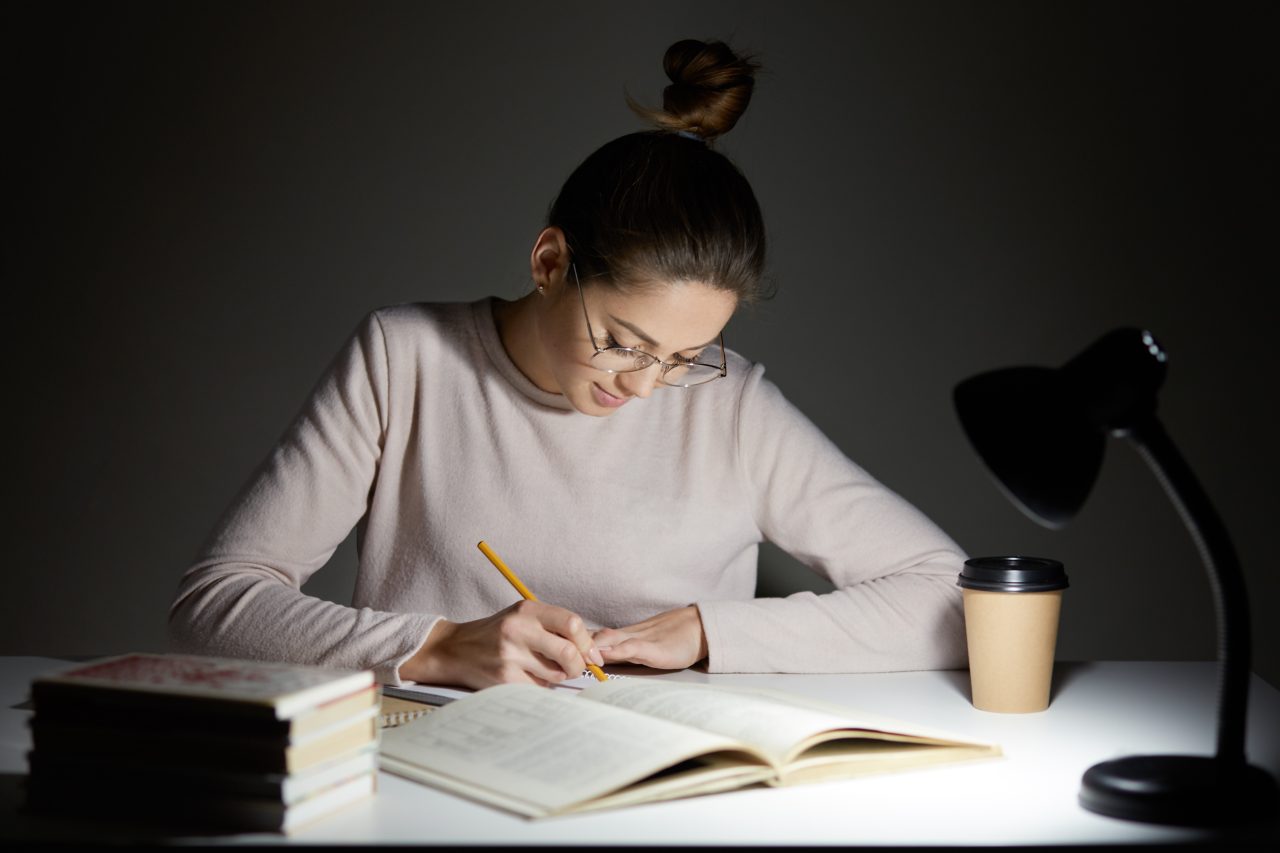 To improve retention while reading, students can actively take notes, highlight important points, and jot down questions for class discussions. Creating study groups to review the reading material and discuss critical takeaways can also enhance comprehension and retention.
Level 3: Audio-Visual (20% retention)
Audio-visual learning merges the power of sight and sound, making it more effective than traditional lectures or reading. Multimedia resources, such as videos, animations, and interactive presentations, can create a multisensory experience that captivates learners' attention. However, educators must be discerning in their selection of appropriate content. Connecting audio-visual materials meaningfully to the subject matter ensures the retention of essential information.
To optimise audio-visual learning, educators can use high-quality videos and interactive elements. For instance, they can include step-by-step guides for specific gardening techniques, audio explanations of plant care, and video clips showcasing different gardening methods. These enhancements capture learners' attention and improve knowledge retention.
Level 4: Demonstration (30% retention)
Demonstration-based learning involves observing processes or tasks being performed by someone else. This level moves learners from passive observation to active engagement. To deepen knowledge retention, learners should not merely watch but also take notes, ask questions, and seek practical applications for the demonstrated concepts. Encouraging experimentation and hands-on exploration can solidify the understanding of complex concepts.
Learners should actively observe, ask questions, and take notes to make demonstrations more effective. They can also participate in the preparation to reinforce their understanding of the recipe and cooking techniques.
Level 5: Discussion Group (50% retention)
Group discussions are a potent tool for active learning. Engaging in conversations and sharing ideas with peers stimulates critical thinking and problem-solving skills. Effective facilitation by educators ensures that discussions remain on track, enabling learners to explore diverse perspectives and arrive at meaningful conclusions. Collaborative learning environments nurture a sense of camaraderie, fostering a deeper understanding of the subject matter.
To foster engaging discussions, educators can encourage open dialogue, create a safe space for sharing ideas, and moderate the conversations to ensure everyone's participation. Learners reinforce their knowledge and gain valuable critical thinking skills by actively engaging in discussions.
Level 6: Practice by Doing (75% retention)
Experiential learning, where learners engage in hands-on activities and real-world applications, significantly boosts knowledge retention. By applying concepts in practical scenarios, learners develop a deeper understanding and memory of the subject matter. Educators should design immersive exercises that encourage exploration, experimentation, and creativity. Active participation fosters a sense of ownership over the learning process, leading to lasting retention.
Educators can design practical exercises that challenge learners to apply concepts independently to promote active learning. Depending on the subject matter, this could involve creating real-world projects, solving case studies, or engaging in role-playing scenarios.
Level 7: Teach Others (90% retention)
At the pinnacle of the learning pyramid is the act of teaching others. When learners embrace the role of educators, they embark on a transformative learning journey. By explaining concepts to others, learners reinforce their own understanding, identify knowledge gaps, and gain confidence in their abilities. Peer teaching and mentorship further enhance the learning experience. Encouraging learners to share their insights and expertise creates a collaborative and empowering learning environment.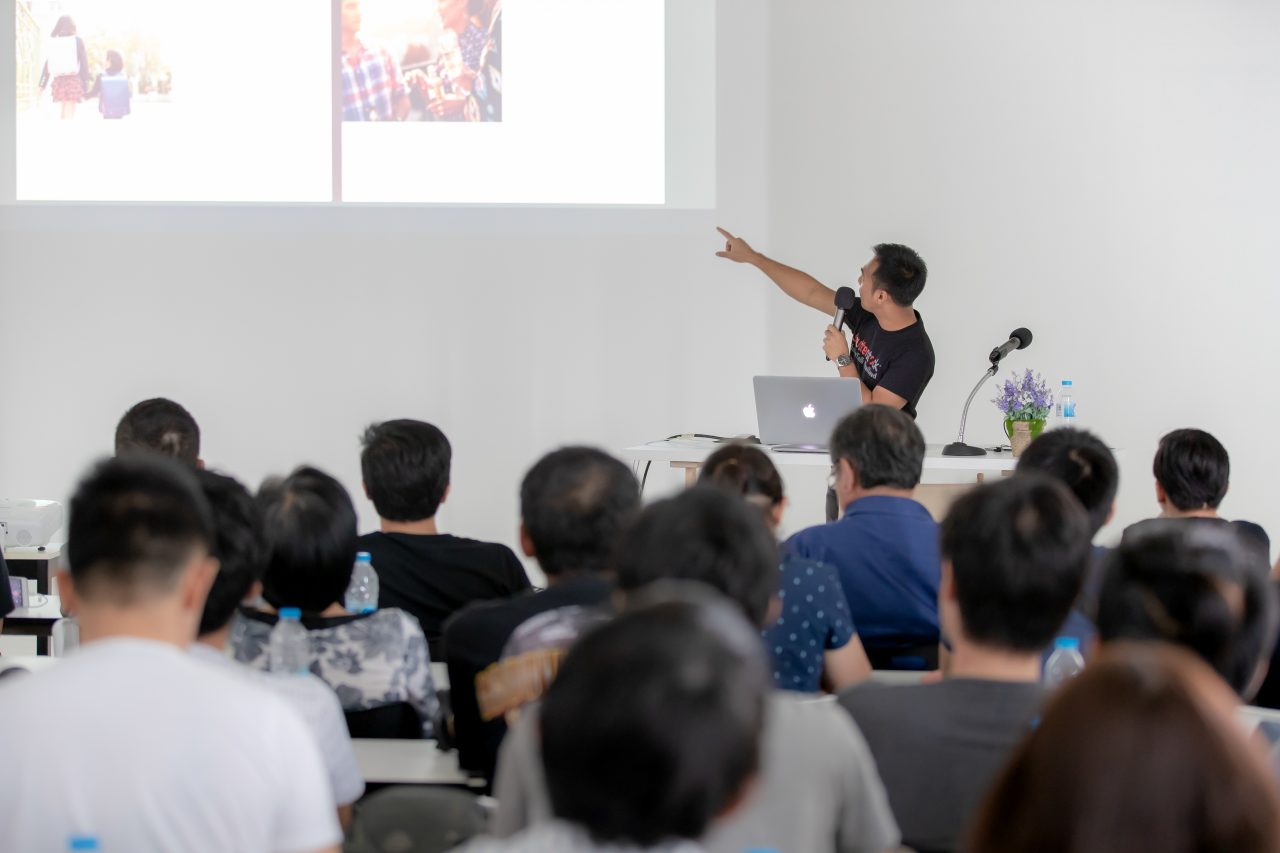 Educators can assign periodic presentations, group teaching sessions, or peer-to-peer tutoring opportunities to encourage teaching others. This practice boosts retention and builds learners' confidence and communication skills.
Choosing the Right Mix: Tailoring the Learning Experience
By acknowledging the strengths and weaknesses of each level in the learning pyramid, educators can create a well-rounded learning experience. For instance, a science class might start with an engaging demonstration of a chemical reaction (Level 4) followed by a group discussion on its applications (Level 5). Learners can then conduct hands-on experiments (Level 6) and conclude by teaching the concept to their peers (Level 7).
Conclusion
Understanding the learning pyramid and its levels provides valuable insights into how we acquire and retain knowledge effectively. By employing diverse teaching methods, educators can create dynamic learning experiences that cater to individual learning styles. Through active engagement, interactive activities, and collaborative discussions, learners can enhance their knowledge retention and embark on a lifelong journey of learning and growth. So, let's embrace the power of the learning pyramid and unlock our full learning potential! Happy learning!
References
Learning Methods to Help You Learn Effectively and Easily (https://www.lifehack.org/850924/learning-methods)
Accreditation of Prior Experiential Learning (APEL) for Qualifications (Q) is the awarding of academic qualifications to individual learners based on the evaluation and assessment of prior experiential learning toward fully recognized programs. Learn more about APEL.Q here. 
You can connect with us through these links for a free consultancy with APEL.Q and registration.